Plant-Based Product Growth
Consumers continue to flex their wellness muscles and plant-based food producers are responding. As plant-based product growth continues to skyrocket, billions of dollars in new and growing markets are ready for harvest.
Burgeoning consumer interest in health, sustainability and ethics is spurring the popularity of plant-based ingredients and products, according to a report from Innova Market Insights. In fact, Innova, a Dutch knowledge solutions provider for the food and beverage industries, found that plant-based product claims skyrocketed at a compound annual growth rate of 62 percent worldwide from 2013 through 2017, with increases occurring in such areas as plant proteins, active botanicals, sweeteners, herbs and seasonings, and food coloring.

"The dairy alternatives market has been a particular beneficiary of this trend, with the growing availability and promotion of plant-based options to traditional dairy lines, specifically milk beverages, and cultured products such as yogurt, frozen desserts and ice cream," noted Lu Ann Williams, director of innovation at Arnhem, Netherlands-based Innova.

In keeping with the knowledge that beverages largely spearheaded the dairy alternative category and still dominate it, global sales of dairy alternative drinks are set to reach U.S. $16.3 billion in 2018 and accounted for more than 8 percent of global dairy launches recorded by Innova Market Insights in 2017, up from 7 percent from 2016. Actual global launches have more than doubled over a five-year span.
For more information please see the original article: Plant-Based Product Claims See Dramatic Rise | Progressive Grocer
Our Model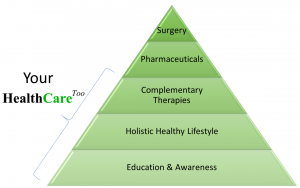 The HealthCare Too model provides for a collaborative holistic care approach to health. We look for articles and knowledge to help consumers and their care teams make holistic health decisions and also shop for the best deals in holistic health so you can find them here! We appreciate the value of surgery and pharmaceuticals but want to make more paths available for your HealthCare Too. See our model for Holistic Health for more information!